Not Here Or There
(Continued)
Students are placed into the Ohio Program of Intensive English, OPIE, a program that prepares students for academic study. Depending on their initial English TOEFL (Test of English as a Foreign Language) score, they test into one of seven levels and begin what, for many, turns into years of language classes before they can enter into the university proper. Making their way through the OPIE maze an urgent and daunting concern for students pressure from their families that pay nearly 65,000 Chinese RMB or $10,000 a quarter for their education.
For many, studying in OPIE is like living between two worlds, somewhere between China and the United States. Most students attend full-time English courses with other international students, shuffling back and forth between the library, their dormitory and class. They log hours of listening exercises online, interpreting American culture through trivial skits that often have nothing to do with their daily lives. One such skit is about a man who buys roses for his angry wife and another is about a family summer vacation. Passage into the realm of authentic American life is rare, because the Chinese students tend to stay together, isolating themselves from American culture.
The center of the Chinese student universe is Gordy Hall. A three-story, red brick building near the center of campus, it houses the OPIE office and the majority of its English language instruction. In classes of about a dozen internationals, students sit stoically, separated from those of the same nationality to prevent them from speaking any language other than English. The walls are covered with smudged chalkboards, maps and colorful grammar notes. "What is one of the main reasons that young adults in the United States go to bars?" reads one question in a workbook. "Find a girl and then fall in love," is written in neat handwriting.
Transcript
However, Gordy Hall is not large enough for the 1,197 students enrolled in OPIE in 2010. The program uses classrooms all over campus. On the basement level of the Convocation Center, beneath the basketball stadium, an 8.5 by 11 piece of paper with OPIE typed in large block letters is taped to the inside of a glass door. Curved, dark hallways lined with classrooms open up in intervals to conference spaces where professors are giving mid-term reviews. In room after room, students sit dejected, arguing their case to move on in the program. They return down the cave-like hallway to their respective rooms.
Sometimes American jokes, I really can't understand that but people laugh so I just laugh.

—Popo Huang
After two years at OU, Andy is still a full-time student in OPIE and has yet to take a single a single engineering class. He spends hours on end preparing for the TOEFL exam, which is the only obstacle that stands in the way of Andy and his engineering. This May, he will take the test for the sixth time. Sitting with a group of Chinese classmates at the library, Andy is often distracted, joking with friends about video games or movies, bored by the monotony of his work. "You study the same thing again and again. I see no hope, I see no end."
Andy is not the only student struggling to graduate from OPIE. According to Christina Jones, a professor at OPIE, many students are frustrated by their inability to get ahead in the program. Some spend two or three years studying English before entering their major.
Many OPIE students live in Scott Quad, the international dorm across the street from Gordy Hall. The main entrance to Scott Quad is a red brick archway with hanging lanterns. The lanterns lead to a square-shaped, open air courtyard that is lined with cherry trees. Four wooden benches form a circle between patches of manicured grass.
At dusk, large spotlights on the roof of the building click on, and the courtyard, strewn with cigarette butts, is bathed in blue light. From the courtyard, the building looks elegant. Warm golden light spews out from the rows of white-rimmed windows on all four sides. The three-story building resembles a hollowed out cube. In the hallways, door after door is adorned with Chinese characters. 180 out of the 215 residents at Scott are Chinese and the dorm has become known among international students as China Town.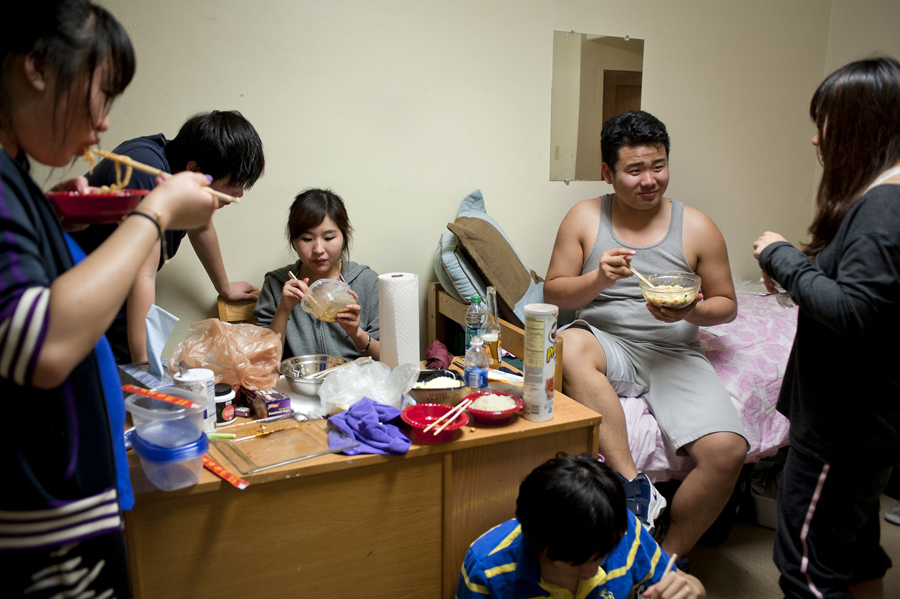 At 2 a.m. on the third floor lounge, four 18-year-old residents play Mahjong, a popular gambling game of skill and strategy. It is played with rectangular tiles bearing Chinese characters and symbols. The students banter back and forth as they select and discard tiles, much like in the Western game, gin rummy. "I got it!" Ma Wen Qi, a resident of Scott Quad says. She slaps her tiles down, face up, to show a perfectly paired row of 14. All four players extend their arms and a loud rustling marks the start of a new hand as they shuffle and then stack the tiles.
Down the hall, a group of friends make noodles in a rice cooker in their room. They add chopped green onion and soy sauce and eat with chopsticks out of Tupper Ware. Cooking is forbidden in the dorm rooms, so a plastic bag covers the smoke detector to avoid getting caught. Couples sit in tight pairs or on each other's laps. It is almost entirely, impenetrably Chinese.
Kyle McKenzie, Associate Director of International Student and Faculty Services, says that Scott Quad was selected to house international students together to ease the transition into a new culture.. "Originally the idea was [the international students] would all start out in the same residence hall and then they would make friends and they would move out," McKenzie said. "That would be the ideal situation, but it isn't always that smooth."
Bill Zhang sits on a bench in the courtyard smoking Chinese cigarettes with six friends. They crack jokes about money, sex, cars and fame. The and the friends complain that they are bored with Athens. "I don't like living in Scott Quad," says Bill, who plans to study Business when he gets out of the English program. "We don't have any chance to speak English. Too many Chinese."
Bill has been in Athens for five months and he has few American friends. He socializes within a Chinese circle of friends, playing games in the lounge at Scott or playing basketball at the health center. Bill's spoken English is rudimentary, and he is frustrated with the dismal outlook of the long road ahead of him in OPIE. Bill is considering returning to China this summer for intensive TOEFL preparation.