Previous | 1 | 2 | 3 | 4 | Next
Almost Out
Inmates at SEPTA Correctional prepare for life outside the walls.
Transcript
The men and boys of East Wing stand at attention along the walls outside their rooms as the monitor on duty, the one they call "Gump," nods at each one silently through the glass. Inside the cage of the control room he picks up a phone to report the number of inmates for the 6:30 p.m. count. They stand like this 12 times a day, counted every two hours. They mumble quietly, waiting.
Waiting is what they do the most at SEPTA Correctional Facility. They wait to go eat. They wait for visits. They wait for permission to watch television. They wait to meet with counselors, and they wait to go to classes. Mostly, they wait to leave the fences and the cameras and the control behind and either go back to the life that got them locked up or to try and turn that life around. But for now, they wait for the 6:30 count to be over.
"Count Complete." The voice cracks over the intercom like a starting pistol and the guys scatter, back to their card games, back to writing letters, back to watching cop shows on TV, and back to the rec yard to smoke.
Doug Starcher cranes his neck toward the cigarette lighter mounted on the wall outside. It burns orange as he lights a Marlboro. He turns away onto the yard, exhaling a screen of blue smoke and rubbing his freshly shaved head. It is an overcast Sunday afternoon, and he is back from another weekend furlough home. His girlfriend made it down to see him at his grandma's house and he brags to some of the other guys, "I'm straight exhausted, Bro."
Douglas Dean Starcher Jr. is coming to the end of a 10-year prison sentence—the last six months of which he has spent at SEPTA. "I've had enough," he said. "I lost too much, and I don't want this life anymore."
People in their lives hit crossroads of defining moments. SEPTA is a defining moment for a person's life.

—Monda DeWeese, SEPTA Director
Tall and broad with sharp blue eyes and tattoos of SS lightning bolts and a hooded Klansman spilling down his arm, he looks tired. For the first time in his life, Starcher thinks he is ready to turn it around and leave prison, drugs, and guns behind him. "A lot of people probably think that I got an 85 percent chance of being right back. For me, I always been one of them hardheads, you know I'm gonna show 'em that it can be done. I'm 31 years old, spent most of my life in prison—now I'm gonna go the other way." Starcher is the latest living test to the basic question SEPTA asks—can people change?
SEPTA—the South Eastern Probation Treatment Alternative Correctional Facility—occupies a segmented grey and blue building that sprawls over a former mine shaft at the base of a ridge in Nelsonville, Ohio. It looks like it belongs in an office park. It opened in 1990 to provide judges and sentencing courts in southeast Ohio an alternative to prison or probation for felony offenders, and to help convicts transition back into home communities. The idea is that locking guys up in a place where a battery of programs are not just available to them, but required of them—can cause a shift. It can change outcomes. They can learn to stop coming to prison.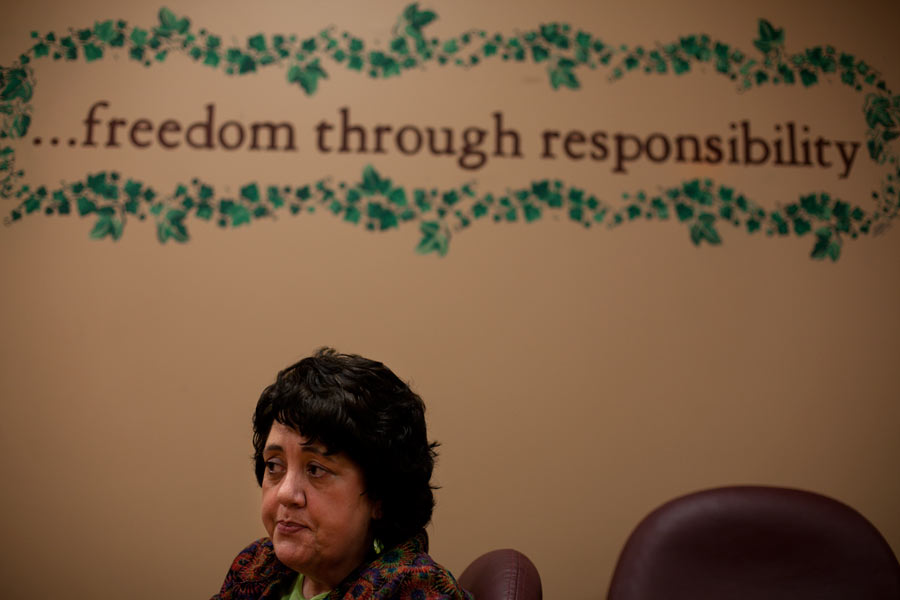 Monda DeWeese, a commanding woman with a no-nonsense hairstyle has served as SEPTA's Director for 25 years. Sharp and articulate, she carries a keychain weapon shaped like a kitty cat. "Before SEPTA, and particularly in the rural area that we serve, it was probation or prison, and we did not have a depth of community resources." In a conference room with the words "freedom through responsibility" painted on the wall surrounded by trompe l'oeil ivy, DeWeese is clear about her vision for the place. "If you don't like being here, then in part I've done my job. This is not meant to be some place that somebody wants to spend a lot of time. People in their lives hit crossroads of defining moments. SEPTA is a defining moment for a person's life."
Inmates at SEPTA are required to participate in a battery of programs and treatment classes. If they don't have a high school diploma, they have to work on their GED. If they have struggled with addiction and alcoholism, (which nearly all have), they attend rehab. They are eligible for work release, and if they can find and hold down a job, they can eventually go on weekend visits home. All this is supposed to help them gather the skills and capacities that they missed out on when they were busy doing drugs and getting into trouble. SEPTA also tries to create a sense of normalcy—a transition from prison life. The guys wear their street clothes, they can smoke outside on the yard. In the small library they can check out a book or create a Mother's Day card on one of the computers. They can go to a horticulture class.
These individuals are going to come back and they are going to be your and my next-door neighbor.

—Monda DeWeese, SEPTA Director
"These individuals are going to come back and they are going to be your and my next-door neighbor," says DeWeese. "And it doesn't matter whether you believe that people should be locked up and the key should be thrown away, or whether you believe that people should never have their freedoms restricted, this is the system that we have. And I think it's SEPTA's mission, and it should be society's mission, that we want these people to come back with an increased ability to cope."