Love in Lost Places
Jameska McKee deals with romance, a dance and coming of age in small-town Ohio.
Jameska McKee, 17, runs around wearing a pair of plastic flip-flop sandals almost every day, from the cold and wet southeast Ohio winters through the mud-crusted springs. Now she is in a last-minute scramble for an appropriate pair of shoes to go with her dress.
It is prom day in Glouster, Ohio. With the sun on her back and a cigarette clinging to her fingertips, she hurries over to her aunt's house. There, she squeezes into a pair of her cousin's dusty black Mary Janes, dug out from underneath a pile of hunting boots and Air Jordans. They are one size too small. Each step she takes looks like one step closer to a sprained ankle. She feigns a pose to check her balance, only to hear her aunt poking fun at her pigeon-toed stance, undermining the elegance of her long legs.
"Stand right, why don't you?" her Aunt Jess criticizes from an armchair facing the television.
"I just need them for the pictures and walking in 'cause after that I'm taking them off," Jameska said back.
"Make sure you send some pictures to my cell phone," Jess yells to her as she darts out the door.
The next stop is the dollar store, where Jameska picks up hairspray, bobby pins and a press-on nail set —The final touches.
Glouster, a former coal company town of 2,000 people, reached its heights long before malls or commerce centers even had a chance to develop interest. Ohio Highway 13, a two-lane road that bisects Glouster, runs alongside railroad tracks. After the town's only stoplight, the highway becomes High Street, a haggard two blocks of dusty, cracked storefronts with spotty activity.
The occasional train, still carrying a cargo of sooty lumps, rolls to and from the last mine remaining, just north of town; like a funeral procession for a long-dead industry. The more significant traffic these days is in opiates. In the last decade, rampant drug addiction and crime have come to define the town's reputation, adding insult to their economic injury.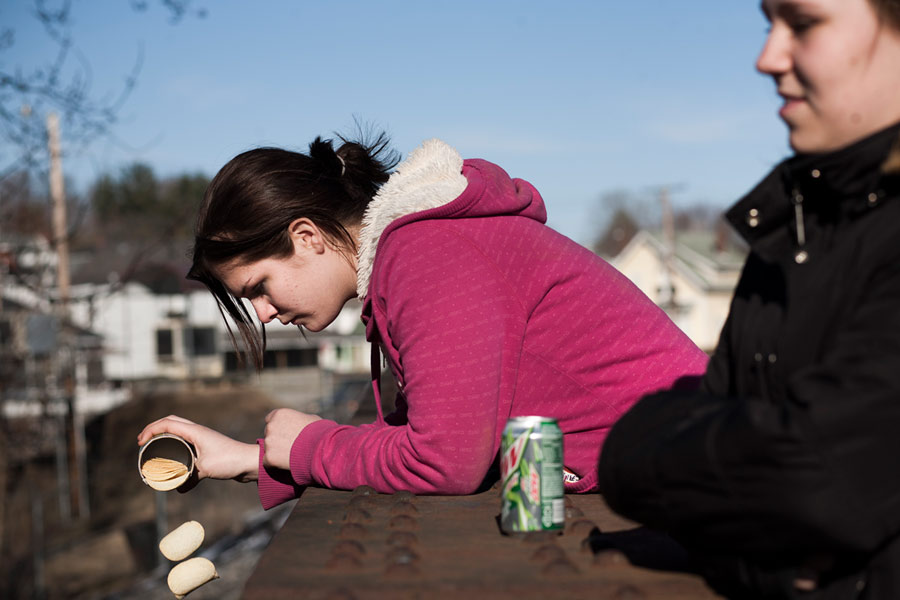 The McKee family roots run deep in Glouster. Jameska's great-grandfather worked in the coal mines in the early 1900s. Her grandfather worked for the city and continues to work as an odds-and-ends mechanic. The women in the family have long held roles as housewives with a few heading out to work at Wal-Mart or fast food joints.
With a few exceptions, they have all stayed in the area, making the hills, creeks and small-town drama their world. The prospect of a trip to Columbus, Ohio, the closest metropolitan area, always yields fear in Jameska and her mother, Tammie.
"I don't want to get shot," Tammie, 45, says nervously. She is a strong-looking woman with a long, black ponytail that she plays with when she is not holding a Marlboro or her four-year-old daughter Roxy's hand. "They're full of gangs out there."
Heavy wooden beams prop up the foundation of Jameska's childhood home. It is on a hill where three houses hold five generations of McKees, fishing, four-wheeling and fighting. The fondness Jameska feels for her childhood as a barefooted tomboy with her family is immortalized in the soggy, plastic sheathed pages of photo albums kept-in cardboard boxes in her closet. Images of Jameska as a bright-smiled three-year-old, engulfed by a costume of tulle, sequins and satin in Wal-Mart's plainly-lit studio share the same pages.
She has got her mama's eyes, her mama's smile and her daddy's nose. It is a small, but broad nose that her narrow-nosed cousins used to make fun of.
Her dad, Jimmy, never married her mom. Tammie describes the man who was "sharp as a tack, but too into his alcohol" as ideal when it first started. His big heart gave Tammie the love that she wanted, but when Jameska was born, she asked him to make a choice: quit drinking or be a father.
His decision meant he was in and out of Jameska's life while she was growing up. According to Tammie, he was completely absent, even though they lived in the same town and he drank at the bars on High Street one block from their house.
A real man is going to go out and work and support his family. Here, probably 70 percent or more of the men are not doing nothing and the women are supporting them.

—Tammie Shifflet
Tammie did not date much while raising Jameska. She resisted investing in a relationship because she was fulfilled by her role as a mother. Only on holidays would she feel the void. She felt confident in her family life, but not in the prospects of love in Glouster. "I just don't believe in that, bringing men in and out. It's confusing to a kid." she says.
"A real man is going to go out and work and support his family," she says with a breath of frustration. "Here, probably 70 percent or more of the men are not doing nothing and the women are supporting them."
When she was 13, Jameska had her first long-term relationship with a blue-eyed boy named Josh. He was a few years older and had a reputation as a bad boy in town. But she enjoyed the attention and semblance of commitment. When he cheated on her, she stayed with him. When he started abusing prescription pills, she overlooked it. When he hit her, she forgave him.