I ALSO LOVE TO GARDEN
(Continued)
Noah used to earn money as a digital artist, using his computer to create digital illustrations, some of which he sells online and has shown in area galleries. Noah enjoys the creative work. The job suits a man whose life happens mostly in his brain. He draws to show what he sees, or maybe wants to see – the female form and open space. Most of his business happens behind the computer screen, but there are the occasional times when Noah has to meet face-to-face with a customer. It can be complicated to talk to Noah for the first time. Typing can take him anywhere from two to seven minutes per thought and he always takes the time to type in commas. Aside from the difficulties Noah encounters communicating, the high unemployment rate in southeastern Ohio makes it difficult for him to find a steady source of income.
His life is so different than yours and ours, that he never has total privacy.

— Ann Trembly
His mobility and communication challenges make friendships and activities special. He joins his friends Rebecca Pierson, Richard Fish, and Amanda Kennedy for hikes through the woods during the spring and summer months. Aides drive Noah to visit other friends, including one group that meets for breakfast almost every Sunday.
A typical week can find Noah sitting at the Union bar in Athens. He is there several nights a week. His aide is never far away. He is often with this aide Todd, a bodyguard-looking-guy, with heavy dark circles under his eyes, who wipes Noah's mouth after every shot of whiskey or sip of beer. The bar is swarming with loud, impatient people, but Noah and Todd always seem to be surrounded by quiet. Noah types on his machine and then gives Todd an inquisitive look. Todd answers.
They spend hours at the bar, usually talking about Noah's problems with the surrounding world. Sometimes, Noah begins typing out what Todd needs to do when they get home: "We need to pack and freeze the vegetables," or "we need to check the mailbox". It gets harder and harder with every drink, Noah's head circles chaotically, deleting badly typed words with each spasm of movement. Todd waits with patience, not drinking while he's at work. He may not even find a bar stool to sit on when the university students are in town.
Todd Vanhorn, 48, of Stockport, Ohio, has been Noah's aide for the past two years. Todd was diagnosed with insomnia when he was five years old and now works six nights a week in 12-hours shifts with Noah. When closing time comes, he gets Noah into the van and they drive home. At home, he gets the communication board out of the green backpack on Noah's wheelchair, sets it on the table and they continue their conversation from where they left off. They spend hours talking. Even though Noah is the one that has to struggle to get his thoughts across, he feels that Todd knows more about him than he knows about Todd. Aside from his parents, Todd is Noah's confidant.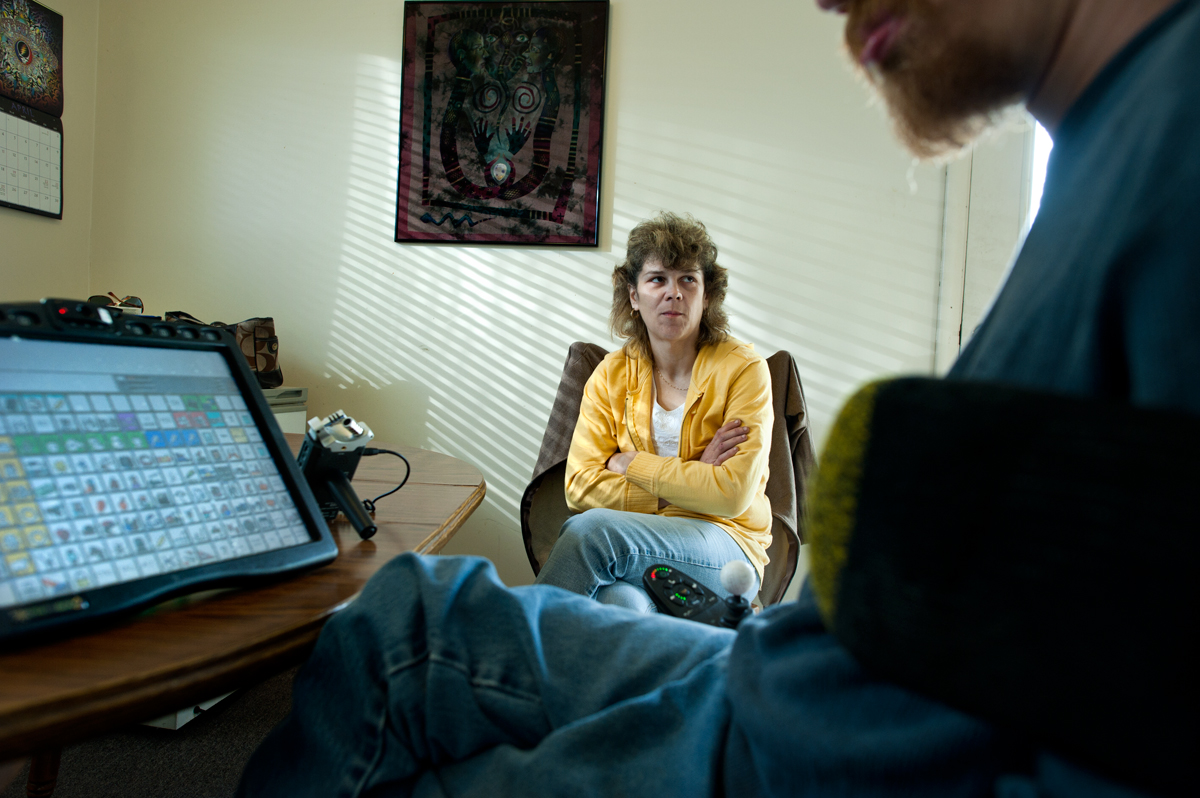 Noah's other caretakers are not as close to him; he tries to keep them at arm's length. He crossed that line once before he moved to Athens, and ended up in a relationship with an older woman that did not go well.
Ann and Mike Trembly remember the two years Noah spent with Misty. According to Noah's sister, Misty had trouble parenting her four kids and struggled with consumption issues. She was a forty-year-old party girl according to the family. Noah's mom didn't encourage the relationship, but she thought to herself that a parent should not choose a 25-year olds' girlfriends. So she let him learn about broken hearts on his own, supervising from a distance with a careful eye.
One night at the Union bar, exhausted from being misunderstood by strangers, Noah struggles to type, "I'm smart, but it doesn't make any difference." His eyes fill with despair. Afterwards he slams his head backward, opens his mouth and waits for his shot of whiskey. No words needed. Noah is unable to burn off the energy he accumulated from the past 33 years of only running in his head. The drinks help him to sleep.